"This is what the LORD Almighty says, 'I will refresh the weary and satisfy the faint'"
(Jeremiah 31:25).
It all started with my sister saying, "I don't have to work on Friday, lets take Mom out." That sounded good to me. So after some research on the web, I found a nice place to go to for one night with my mom and my sister. It was a fun, relaxing, and refreshing night away. I am so hankful for my mom and my sister/my best friend (and a supportive, loving husband)!

Continuing to give thanks...


#1815- #1831
-the opportunity to have a fun, relaxing night away with my sister and my mom

-Mom's health
-Mom's deep appreciation for flowers

-always having a good time with my sister
-Paul being so supportive with my get away (he didn't think it would actually happen!)
-knowing that the children were in such good care with their daddy
-knowing that the childern were having lots of fun with their daddy (as always!)
-rest and relaxation
-God's beautiful flowers and water
-Deborah sitting so nicely with her brother on the couch and/or lazy boy chair
-miracle baby twins' baptism and a reminder of God's promises to us and our children
-God's faithfulness
-the gift of life
-a long awaited piece of paper work being finalized for friends who are now in their final steps of bringing their baby girl home!
-an afternoon out with my hubby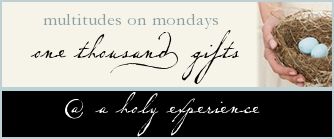 >